Jazz Guitarist, Writer
"Wright is an obvious disciple of the Jim Hall school ... playing rooted in his urbane sensibility."
All About Jazz
"Wright's ability to balance technical prowess and beauty is truly the pearl within."
Jazz Sensibilities
"I liked the bottom of the sea level of your writing. Don't worry about discipline or guidance."
Anais Nin
Reflections on Only Love — Winter Solstice 2019
---
New Album
---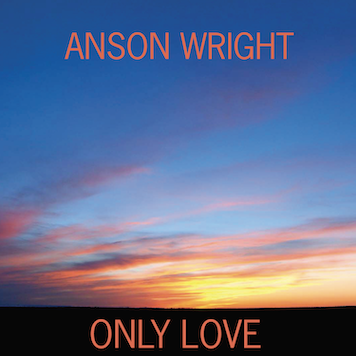 Announcing the December 2019 release of Anson's album, ONLY LOVE. The quartet album features seven original compositions from Anson and two originals from pianist Jasnam Daya Singh.
"The quality of his playing is exceptional on this extraordinary album ... In sheer color and variety, in the depth of its characterization and the exceptional range and refinement of his guitar playing, Mr. Wright imparts a powerful stature to everything that he plays ... All in all this is music that is ravishingly subtle with emotions evoked as few can even hope to try."
— Raul da Gama, JazzdaGama
National charting: Only Love is charting at #6 in radio airplay as of March 21, 2020. It has charted in the top twenty jazz albums nationally for three consecutive weeks.
Order now on:
---
About Anson Wright
Master guitarist, composer, novelist, poet, and educator Anson Wright spent his formative twenties in New York City. A graduate of Princeton, Anson left post-graduate studies at Columbia to pursue his creative visions far from cloistered academia. Living in the East Village and frequenting performances by Charles Mingus at the Five Spot, Anson composed and performed music for finger-style guitar as well as immersing himself in the vibrant literary and alternative education scenes. In addition to pursuing his musical career, Anson completed his novel, Jericho, drove taxi, taught guitar and creative writing, ran a trucking company, and built cabinets.
Anson's early jazz studies began in clinics with the legendary jazz guitarist Howard Roberts. Later teachers on the West Coast included John Stowell and Jerry Hahn, as well as Charlie Parker protege Bob Newman and veteran pianist Harry Gillgam. Anson has performed throughout the United States and abroad and has worked with numerous jazz luminaries, including Nancy King, Mel Brown, John Stowell, and Glen Moore. With a style often compared to Jim Hall's, his playing has been lauded as combining "unbridled passion and elegant restraint," demonstrating what one reviewer calls a "finely honed musical intelligence." Anson's original guitar compositions have been choreographed and performed in modern dance, and his poetry has been set to modern dance and to music. He has taught at numerous schools, including New York University, Pacific University, and Portland Community College.
In addition to his CD releases, Only Love, State of Grace and Ukiah's Lullaby, Anson is the author of three books. He is one of the small number of jazz artists who have received critical acclaim as writers as well as musicians. Author Anaïs Nin praised the prose in his novel, Jericho: "I liked the bottom of the sea level of your writing. Don't worry about discipline or guidance." The National Endowment for the Arts provided the funding for his second book, Openings. Anson's first full-length poetry book, Sandstone Monastery, was released in 2004. Poems from Sandstone Monastery were set to music by guitarist John Stowell in the 2008 spoken-word CD, The Sky At Our Feet.
In 2012, Anson Wright's novel, Jericho, was released as an e-book. This book is available for download on your iPhone, iPad, or iPod touch with iBooks and on your computer with iTunes. Click on this link to learn more and purchase. Jericho iBook. A Kindle Edition is also available, click Jericho Kindle
"Written by Anson Wright at the beginning of his multi-faceted career, Jericho is a towering novel that holds an important place in the pantheon of American letters ... a masterful and transforming work."
Michael Coffin Informed Publishing
Anson Wright - "Rahway Blues"
---
Anson Wright - "Maddie in New York"
---
---